Eat Out To Help Out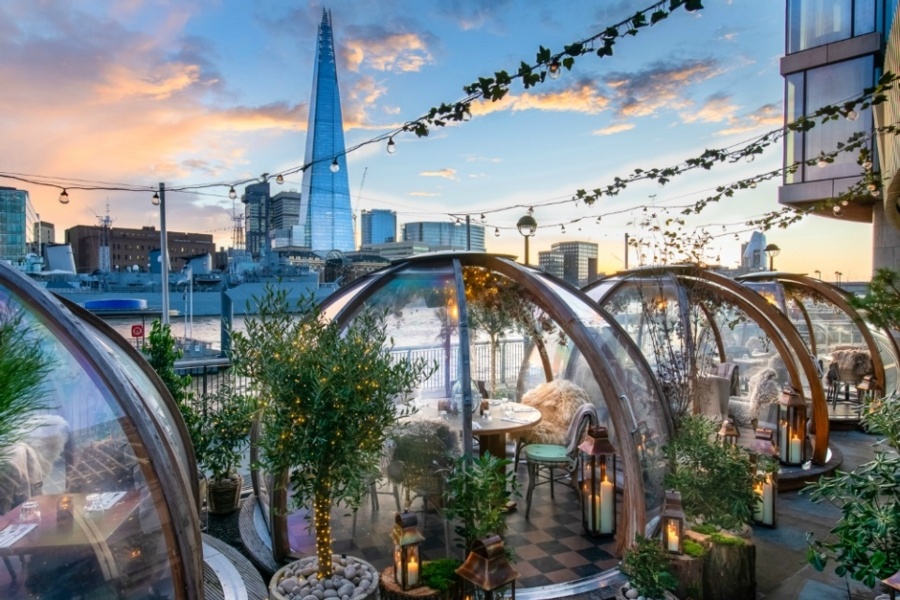 Eat Out To Help Out is in full swing and plenty of Brits seem to be taking the government up on it! The promotion gives people a discount of up to 50% when eating or drinking soft drinks in a participating restaurant or other food establishment, with a maximum discount of £10 per person when you eat or drink in. There's a full list of restaurants participating in the scheme available
here
but we thought we'd highlight a few more of our favourite spots which are participating in EOHO. Please get in touch at
[email protected]
if you'd like us to book.
Le Comptoir Robuchon
– The late, great Joel Robuchon (earner of the world's most Michelin stars) left a legendary legacy in the form of Le Deli Robuchon and Le Comptoir Robuchon, one of the top Gallic restaurants in Mayfair. They'll be participating in EOHO on Mondays, Tuesdays and Wednesdays for their in-house dining (doesn't include alcohol or takeaway).
Arros QD - Quique Dacosta's Arros QD on Eastcastle St, Fitzrovia has opted in to the Eat Out to Help Out scheme, meaning customers dining on Tuesdays and Wednesdays can expect up to £10 off top-shelf paella. A classic paella Valencia with rabbit, chicken, farrago beans, rosemary and aioli will now be £11 per person, whilst an Iberian presa rice with black garlic aioli is a steal at £16.25 per person.
Aviary – Nestled atop the 10th floor of the Montcalm Royal London House hotel, The Aviary offers spectacular views and broad terraces alongside coal oven prepared Modern British dishes. From Monday-Wednesday through August they're offering 50% off mains with no £10 limit, so you can spend ever more on their delicious range of libations.
Norma – Norma culinary director Ben Tish has been hard at work behind the scenes to bring diners a flight of new summery dishes to sit alongside Norma classics. New dishes include English burrata with peas, broad beans, preserved lemon and summer leaves; grilled octopus, caramelised lemon, wild fennel and salsa crudo and bucatini with Cornish crab, chilli butter and lemon.
Eight Club – We're very pleased to welcome the Eight Club back into the fold of our favourite venues that are up and operating and also to announce that they'll be participating in Rishi's Eat Out To Help Out scheme. Avail yourself of their excellent range of food and drinks on their Moorgate terrace during the summer months!
The Stafford – Both The Game Bird and The American Bar at The Stafford (one of our favourite traditional British restaurants and one of the top cocktail bars in St James, respectively) will be participating in the Eat Out To Help Out Scheme, so one could enjoy the legendary Stafford Burger for just £13.50.
D&D Restaurant Group
- D&D London is introducing a special three course set menu at each of their restaurants in collaboration with the Government's Eat Out to Help Out scheme. Each of the 18 D&D London restaurants currently open in England will have a new three course menu on offer. The menus are priced from £25 - £40 before the £10 discount has been removed. Diners can therefore enjoy a three-course meal for as little as £15 a head, an incredible deal. You can find the full list
here
.
Aqua Restaurant Group – We're massive fans of the Aqua Restaurant Group and have spent many happy afternoons and evenings enjoying ourselves in Hutong, Aqua Shard and Aqua Kyoto. Luckily for us, they're taking part in the EOHO initiative. They're additionally offering a gift of £10 off (a £40 bottle of wine – 1 per table) for anyone dining with at any of the three restaurants, from Monday to Wednesday throughout August. Chin chin!
Hakkasan Hanway Place – What better way to celebrate than with some of London's best dim sum? Anyone with a predilection for abalone knows that you can spend a lot at Hakkasan, but you can also go the other direction. Cut £10 per person off their average dinner price of £38 and you'll be enjoy uber-delicious Cantonese for an uber-thrifty price.
Hawksmoor – The fabled steakhouse will be running an incredible deal wherein you can enjoy their steak and chips for £10. They've taken their 300g of 35-day dry-aged rump steak, added chips and a sauce of your choice, all of which would usually cost about £30, which they've reduced to £20. With the Eat Out to Help Out scheme, everyone who orders it will get 50% off.
Gymkhana – JKS Restaurants first struck Michelin gold with their restaurants Trishna, but it was Gymkhana that turned the Sethi siblings into restaurateur superstars. Having closed down and refurbished after a fire, Gymkhana was one of the hottest restaurants to visit pre-lockdown, and now that it's qualified for Rishi's scheme, we expect it will be more popular than ever. Its set lunch menu is well worth a visit, as is their evening a la carte.
Pollen Street Social – Pollen Street Social, Jason Atherton's flagship restaurant, will be launching on August 1st, just two days before the new scheme comes into play. The restaurant put Atherton on the map and helped pave the way to the restaurant empire that he has today, by creating pitch perfect Modern European cuisine served in a more relaxed environment.
Galvin La Chappelle – Galvin La Chappelle quickly earned a Michelin star following its opening in a gorgeous Grade II listed church in the heart of Spitalfields. Renowned for its gorgeous Gallic cuisine, it's the perfect special occasion restaurant in which to celebrate something special. They also offer some great value special menus, made even better by the EOHO scheme.
Lyle's – This east London establishment helped put Shoreditch on the map as a trendy neighbourhood that offers sophisticated dining and beckoned in a new wave of restaurants. Super popular for their reasonably priced a la carte lunch menus as well as their tasting options, they also qualify for the EOHO scheme from the 3rd.
Share this article